What is a "not functioning as intended to" inauthentic suspension?
"Not functioning as intended to" is an inauthentic complaint in Amazon's dictionary.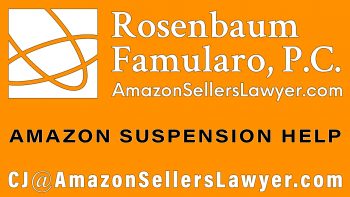 This allegation applies to any product from Amazon which a customer buys and expects certain results from.
This can be a very objective situation and does not necessarily mean that a customer purchased something from a seller and it is not functioning. In fact, the product can be fully functional, but it simply did not meet the standards the customer placed on the product.
This scenario applies to a whole host of products, ranging from machinery, electronics, cosmetics or even medical items. For example, a customer purchased a phone which they intended to use for daily communication, but every time the customer calls using the phone, the call drops or there is static noise. Further, the customer reported to Amazon that the item "did not function as intended to" which resulted in an inauthentic complaint and eventually leading to a suspension of the seller's account who sold this product to the dissatisfied customer.
Yes, it takes just one complaint for a seller's account to get suspended, which is why it's always good for sellers to remember that Amazon holds a customer-oriented policy.
Understanding Your Situation
Just like how you need like a hammer for nails, you need the proper tools to approach this suspension in a successful way. In this case, the hammer is your tool and the nail is the suspension. First, since it is an inauthentic complaint, you should already know that Amazon is wondering if you truly purchased these items from a trusted supplier. So, the first tool you'd need are sufficiently detailed invoices. The second tool is a properly detailed Plan of Action. After gathering these tools, you are ready to approach this suspension successfully.
Structure of the Plan of Action
A valid Plan of Action contains 5 parts: namely, the root cause(s) of the product authenticity complaints, the actions you have taken to resolve each of those complaints, the steps you have taken to prevent authenticity complaints in the future, copies of supplier invoices or receipts from the last 365 days for each product at issue (which should reflect your sales volume during that time), and finally, the contact information for your supplier for each product, including name, phone number, address, and website.
How to Write a Plan of Action
The first time you write a Plan of Action for an inauthentic suspension, it could be confusing and frustrating because even though you may know the structure, the real question is what type of language Amazon is actually looking for and what should really be written in there.
The team at Amazon Sellers Lawyer are here for you to guide you through some very interesting tips. We take pride in our work and we are dedicated to providing a great client experience for our clients comprised of many Amazon sellers, so let's get right to it!
Throughout the Plan of Action, you need to focus on 2 things: first, is that you have to make sure you state the right remedies for the issue and second, you address the improvements in your business practices that Amazon wants to see which will be basically how will you prevent the issue from arising in the future again.
Finding issue that caused the complaint is the crucial part and can easily be very confusing to find. It could consist of multiple complaints which can be located in your messages regarding that certain product. It could be negative feedback about the product at issue, or it could just be some general customer reviews about the product.
Once the root cause is specified, then you are ready to lay out corrective and preventative measures. It is very similar to that you found out a problem in your car and you immediately fixed it and took measures so in the future, that car issue does not arise again.
Not Functioning As Intended To Inauthentic Suspension Help
The very first immediate corrective action should be removing the remaining inventory and listings from the Amazon platform. This also includes FBA because as of right now, Amazon thinks that product is inauthentic, and they don't want any more of their customers to purchase and be dissatisfied again. The product could be relisted again once the suspension is removed. Further, since Amazon is very customer-oriented market place, you should refund the dissatisfied customer(s) and address it as an immediate corrective action.
Preventative measure is where you have to focus on addressing the issues properly. So, some specific examples would be that you contacted your suppliers and requested assurances from all suppliers that the products you sourced from them were brand new, authentic and in manufacturer's condition. In addition, when applicable, you also have suppliers provide Quality Control Certificates and Manufacturers Safety Data Sheets with each inventory purchase.
This step is very confusing as it demands to actually find the root cause of the issue that caused the item "to not function as intended". As you may see, this varies on what product it is. Let us take our previous example of the cellphone. The issues that could have caused the phone not to function as someone intended to could be minor damage during transit. If it left your facility in a proper condition that is the most obvious cause that could have caused the product some minor damage, your focus should be on emphasizing on improvement of your packaging practices for the most part.
For example, you gauge the box with 2-inch plastic bubbles, to prevent such damage from occurring again. Second example could be you employ additional workers who overlook your packaging department and checks the product before and after packaging to ensure it is properly packaged to prevent any damage during transit. Your plan should also include: how you make sure the item was listed properly, that you trained all your team on all Amazons Guideline Policies, and explain inventory check process.
After you have completed a proper Plan of Action, you may add in the details of your supplier, yourself (buyer) and attach the invoice(s) and receipt(s) with your appeal to send out to Amazon. Make sure you have all the tools ready, the right steps are taken, and you outline remedies that actually prevent the issue at hand to not arise later on in the future.
Bottom Line
The Plan of Action and appropriate supplier documentation are the right tools for a successful appeal. Further, a concise, organized, specific and thorough Plan of Action will greatly increase your odds of winning an account reinstatement.
---
Chitagam Saluja is one of the firm's paralegals. He is currently attending college and is pursuing a Master's Degree in Business Administration. He is well-versed in speaking and writing in different languages including Punjabi, Hindi and Arabic, and is also the President of the Indian Panorama Weekly Newspaper. Even though he is primarily an Assistant Paralegal, he is not hesitant to be involved with other aspects of the firm as a contributor for Amazon Sellers Lawyer's Suspensions blog page, minor international marketing and business development functions.