Amazon to Hit $1 Trillion by 2022
It's been a good month for Amazon and its sellers. In the same month where analysts came out and said that they believe Amazon is on the path to hit a $1 Trillion market cap by 2022, Amazon has passed Alphabet to become the second-largest company in the world. The rise in value for Amazon should serve as pleasant news for those who rely on Amazon's success to stay in business.
Amazon Passes Alphabet for 2nd

The milestone of passing Alphabet for second on the planet came Tuesday, March 20 when Amazon reached a market cap of $768 billion. Just this past month, Amazon passed Microsoft to be third, meaning there has been some rapid ascension in 2018 alone. Alphabet has a current market cap of $730 billion and Microsoft has a market cap of $722 billion. Amazon remains on steady rise, staying on the heels of Apple, which is the most valuable company in the world. Apple has a current market cap of $876 billion while Amazon is at $753 billion.
According to Deadline.com, Amazon has a clearer path forward than some of the competition. Google and Facebook are currently facing backlash in light of revelations about Facebook's deployment of user data. It was revealed a few weeks ago that political data firm Cambridge Analytica accessed data from more than 50 million Facebook users without their permission, which served as bad press for Facebook and allowed Amazon to get a leg up in the advertising world.
Without that kind of existential fog to cut through, Amazon has continued to execute well. Its stock is up 80% over the past year (compared with 24% for Apple). Cloud computing is driving a lot of the bullish sentiment about the company.
Its Amazon Web Services (AWS) division, which handles cloud-based projects for a range of clients, took in nearly $17.5 billion in revenue in 2017 and its operating profit represented 60% of the entire company's.
Amazon to Hit $1 Trillion by 2022
According to Jefferies analyst Brent Thill, Amazon is on track to reach $1 trillion market cap by 2022. Bloomberg reports that Thill believes that the company's aggressive push to expand its advertising business will be a key driver to getting the company to $1 trillion.
We think advertising could become Amazon's most profitable revenue stream and similar to AWS afford opportunities to invest back into the core biz," said Thill in a research note.
The shift in ad spending to online platforms has helped it grow without needing to compete for dollars with Facebook Inc. or Alphabet Inc.'s Google. And having "billions of touch points with consumers" helps Amazon distinguish itself from other ad markets, putting it on the path to reach $22 billion in ad revenue by 2022, Thill says, up from about $4 billion last year.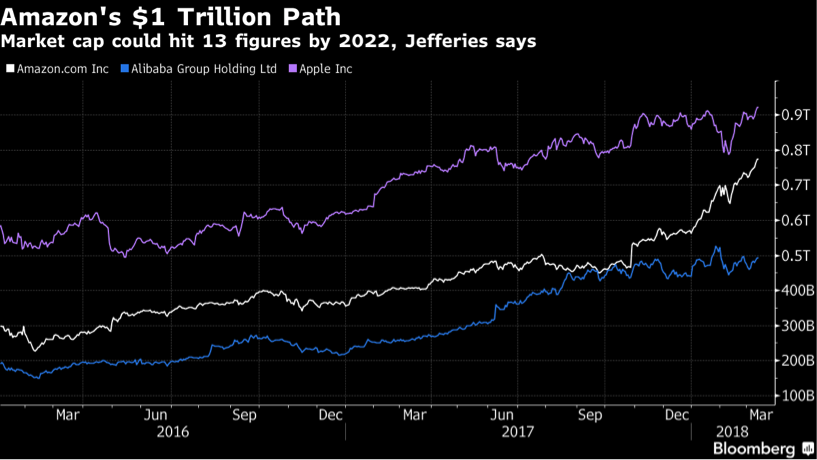 But it isn't just advertisements that are going to drive in more revenue. A big area that Amazon will be bringing in more revenue is through Alexa. Amazon's CEO, Jeff Bezos, has stated that the company will be doubling down on Alexa and will continue to expand its features and usability after how successful it was in the previous quarter. Alexa has been one of Amazon's most successful products and has already been a major benefit to sellers as it allows customers more accessibility to Amazon's products.
Thill raised his 12-month price target of the stock from $1,750 to $1,850. This is compared to the average target of $1,701, according to the data compiled by Bloomberg. Currently, the stock sits at $1,555 a share.
However, analysts from Wolfe Research and Monness, Crespi, Hardt & Co. both carry price targets of the stock to $2,000. If correct, this would put Amazon just shy of the trillion-dollar mark within a year based on the current number of shares outstanding.
What this Means for Sellers on Amazon
Amazon is the largest retailer in the world right now, having a larger market cap than the next two largest retailers, Walmart and Alibaba, combined. Despite the efforts of Wal-Mart and other competitors, Amazon's savvy business moves have made it the most profitable company in its business and continues to be the best place for third-party sellers to own their businesses. Many sellers may have been concerned in the past that Amazon wasn't doing enough to stay ahead of the curve while Wal-Mart has stolen some of Amazon's third-party sellers away. But the rise in valuation and Amazon's continued efforts to better its business shows that it should stay on top for years to come.
Amazon has made companies such as Wal-Mart conform to what they have been doing, which has forced many retailers to move to online sales.
No longer will Amazon be known as just that online bookstore. Yes, you can still purchase books from Amazon of course, as Amazon sticks to its roots in what made it successful in the first place, but it is all that and much more. Anything the common buyer can think of is one click away thanks to Amazon, and no other company can claim to be the one to start that trend.
Now that Amazon was just recently named the second-largest company on the planet, it means even greener pastures for the company. Places where Amazon has not been popular in the past will start to pick up and become more popular.
For example, Amazon recently began to expand to sellers in Australia by launching Amazon Australia and by opening up warehouses to make items more accessible to customers there to give those customers the same benefits that Amazon sellers in the states see. Australians are much more traditional in terms of their buying habits as many of them prefer in-person stores, but the increase in popularity has gotten more Australian sellers on Amazon. Just with that proves that Amazon is not afraid to step out and go somewhere where not many have gone before.
With the market cap of the company rising as the years go on, the prices of each share rise as well. And when that happens, that means better opportunities for sellers to sell on the platform. The more and more popular that Amazon will be getting, the more and more people that will be buying from the website. That means sellers on Amazon will be receiving an uptick in views on products and even products purchased.
If sellers get in on Amazon now, they will be ahead of the curve than when Amazon becomes a trillion-dollar company. Amazon might not become the first trillion-dollar company, as Apple sits at over $100 billion higher than Amazon in market cap. But analysts are saying that Amazon could become the first $2 trillion company way down the road.
---
About the Author:
Amazon to Hit $1 Trillion by 2022

Giovanni will be earning his degree in Journalism from Hofstra University this upcoming May. He has written for publications such as the Hofstra Chronicle and Jetsinsider.com. Most recently, he was the Sports Social Media Manager at WRHU.
---