As one may already know, Amazon is one of the most (if not the most) prolific and popular online marketplace for sellers and customers.
Sellers work hard to offer their products on Amazon and it is the goal of any business person to earn a profit.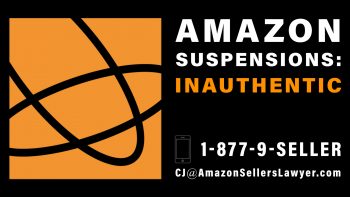 As such, Amazon is easily accessible to millions of its customer base around the world. But nonetheless, you must be aware, ready, and prepared, because Amazon is very customer-oriented.
We only say this because there's a possibility Amazon may strike a seller with an inauthentic suspension at any moment's notice. In the event this occurs, a seller might initially feel anxious, frustrated and scared because now their business operations and livelihood has come to a halt, their funds are now frozen, and there is no further generating income, which can severely setback any business.
However, every lock has a key to it. We are here to guide and prepare sellers when they face an inauthentic suspension. We share these tips with you because eventually every seller will or had in the past, faced this situation.
Amazon Sellers Lawyer is dedicated to the sellers just as much as Amazon is dedicated to its customers and we want to share our knowledge for your benefit.
So, what is an inauthentic suspension?
An inauthentic suspension in most cases originates from a seller's customer notifying Amazon about a product's condition or even delay in arrival. An inauthentic suspension does not necessarily mean that the product at issue is a "knockoff" "fake" or "counterfeit". According to Amazon, "inauthentic" has a variety of different meanings (unlike the definition on dictionary.com).
The causes that initiates Amazon to issue a seller "inauthentic" suspension could be: the product does not accurately match the product listing description, the product does not accurately match the image, some products were missing, the product was damaged, the packaging of the product does not accurately reflect the display picture or listing description, the customer was expecting a different product or simply any baseless customer complaint.
What steps should a seller take to resolve an inauthentic suspension?
Even though Amazon might issue a seller an inauthentic suspension, they are very general and not specific about what kind of inauthentic complaint you receive.
For example, in most cases Amazon sends a seller a notification saying:
"your account is currently suspended because we received inauthentic complaints about the items at the end of this message. To sell on Amazon send us a plan of action."
This is where the legwork starts. Amazon notifies a seller about a product at issue, but never says exactly what the complaint was. This is a way of Amazon conveying a message to a seller that they should be 100% aware of their account activities.
There is a certain structure to draft a Plan Of Action and the very first step is to locate any complaint the customer has against the product at issue and this will be your root cause.
Once you have located the complaint or in many cases complaints about the product at issue, the second step is to draft a POA which will be the immediate steps you took to resolve the issue or issues.
The last step would be your long-term changes in business practice which will prevent these issues from arising again in the future. The most important thing that some sellers overlook is saving their proof of purchase (invoices and receipts) to attach and send when appealing to Amazon for their inauthentic suspension.
As stated before, an inauthentic suspension is a way for Amazon to verify where you source your products, which makes this step a very crucial part of your appeal as it proves your source and authenticity of your product at issue.
No matter what, even though sellers have the best business practices implemented to sell on Amazon, Amazon can be quite frustrating issuing inauthentic suspensions which may leave a seller scratching their heads wondering, "how come?"
Inauthentic Suspension Help
Our experience with helping sellers reinstate their account for inauthentic suspensions:
Our firm deals with Amazon suspensions and our main goal is account reinstatements for Amazon sellers & ASINs. Inauthentic suspensions have to be tackled or resolved with a technique. As we said before, "every lock has a key to it", the problem here is Amazon has a lot of different locks and the solution is, we have the keys to these frustrating locks.
When a seller receives an inauthentic suspension, we understand it is very frustrating and they may not know how to change certain practices in accordance with the type of complaints or simply what to exactly say. The key is to be detailed and specific.
The fine balance of changing business practices and properly addressing complaints with sufficient proof of purchase is the way to reinstatement. For example, a customer receives a package which was damaged, the root cause will be "customer received a damaged item", the immediate corrective measure will be "we refund the customer right away and offered them a replacement" and lastly, the long-term measure will be, "we changed our packaging to ensure there will be no damage to the products in the future."
As any good business person, follow through with your actions and you will be fine in the long run.
---
Chitagam Saluja is one of the firm's paralegals. He is currently attending college and is pursuing a Master's Degree in Business Administration. He is well-versed in speaking and writing in different languages including Punjabi, Hindi and Arabic, and is also the President of the Indian Panorama Weekly Newspaper. Even though he is primarily an Assistant Paralegal, he is not hesitant to be involved with other aspects of the firm as a contributor for Amazon Sellers Lawyer's Suspensions blog page, minor international marketing and business development functions.