Amazon has teamed up Snapchat in efforts to make the shopping experience easier than ever and allow customers to find the products they need instantly.
How Does Snapchat Work?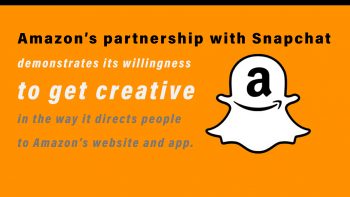 Snapchat is a popular free mobile app that allows users to send photos and videos to one another in an increasingly interactive way. Photos and videos sent through the app are often short and have a finite amount of time for which they are viewable to the recipient, but they're very easy to edit and can be quite versatile.
For example, Snapchat recently rolled out a new feature allowing users to pay one another through the app. Snapchat has also teamed up with other companies to make the photo-sharing tool very flexible in what it can achieve. The app is essentially a still-photo camera, video camera, text messaging system, and PayPal (plus more) all rolled into one. And soon, the app will also feature online shopping through Amazon.
Amazon + Snapchat
Snapchat announced it would be teaming up with Amazon to help users find products they're looking for simply by using the camera interface.
According to the announcement, users of the app can point their phone camera at an object, and the app will automatically route them to the Amazon product page to help them find that item and purchase it.
"It's super easy to use," Snapchat explained in its blog post. "Simply point your Snapchat camera at a physical product or barcode, and press and hold on the camera screen to get started. When the item or barcode is recognized, an Amazon card will appear on-screen, surfacing a link for that product or similar ones available on Amazon. Tap your selection to visit the Amazon App (if you have it installed on your phone) or Amazon.com, where you can complete your purchase or keep browsing."
The roll out will start with customers in the United States and will only be available to a small percentage of Snapchat users — seemingly randomly selected — at first.
The company's blog post was fairly short and didn't provide a whole lot of details, but the photos they provided show consumers using the feature to purchase shoes and makeup products. Unlike other recent Amazon updates, this one seems tailored to smaller products rather than bigger ones like furniture, but that doesn't mean it can't be used for that too.
Why the Partnership?
Despite the rising popularity of social media, especially among mobile users, Snapchat itself has been floundering as a company lately. As mentioned previously, Snapchat has rolled out many updates over the last few years that are similar to this partnership with Amazon. However, Snapchat's stock has not done well in spite of these changes.
According to The Verge, the Snapchat stock "reached an all-time low" earlier this month. CNBC points out that the stock shares are down 35% since the beginning of 2018. Since the update was announced, the company's stock has actually raised a hair. We'll see if that serves as any sort of predictor for the company.
But for now, making a partnership with one of the most profitable empires seems like a wise move for a platform that certainly has its market but is failing to get a foothold. One can imagine that Amazon will provide some of its profits to Snapchat as a result of the partnership.
For the consumer, it makes a lot of sense as well. How many times have you seen something you wanted to buy but didn't know exactly what to type into an Amazon search to find it? Rather than searching something for hours and getting frustrated that you can't find exactly what you're looking for, a simple picture can point you in the right direction. It removes a lot of the work from the customer's end and does everything to put the product directly into the hands of the consumer.
How Does This Impact Sellers?
As we've mentioned on this blog many times before, the most important thing to sellers is getting as many eyeballs as possible on their products.
Any update that Amazon makes to achieve that goal can only be a positive for those sellers. Snapchat's partnership with Amazon achieves that goal by helping users find items they're looking for.
By Snapchat's own definition of the new feature, users will be directed straight to Amazon where they can continue browsing.
Another way this helps online sellers is by getting more people to buy products online rather than by using in-person stores. Smart shoppers will use this feature while shopping in person to price compare, and they'll be able to see directly what the price difference is between the products being sold online and those in the store. That alone could help drive sales in the online marketplace. It's bad news for brick-and-mortar stores, but great news for those who run their businesses online.
At the moment, this update is in the very early stages. As you're reading this, it's likely that very few Snapchat users even have the feature on their app. But as the companies begin to test out the function and see how it affects the user interface, it will become clear whether this is something worth pursuing going forward.
Amazon + Snapchat = Conclusion
Amazon's partnership with Snapchat demonstrates its willingness to get creative in the way it directs people to Amazon's website and app.
---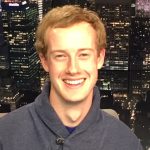 Anders is a content creator for Rosenbaum Famularo, P.C., the law firm behind AmazonSellersLawyer.com.
Anders will be earning his degree in journalism from Hofstra and has five years of professional journalism experience. He has written for numerous online and print publications including SB Nation and The Hofstra Chronicle.